PREGUNTAS FRECUENTES
Assignment Confirmations
---
Assignment Confirmations are critical. They include all necessary information regarding your new job. Details included in your assignment confirmation -
pay rate
start date
shift details
end date
location
parking information
reporting instructions
on-site supervisor
timesheet information
first pay date
We recommend you read this confirmation thoroughly! Once you've received the information, you will be held accountable for the information included.
---
Assignment Parking Details
---
DPS does not cover the cost of parking. During the submittal ans assignment confirmation, your staffing team member will cover parking as it relates to your assignment. Information about alternative parking may be available at that time. Click to see information about Texas Medical Center Parking
---
Arriving On Time & Follow Up
---
Arriving 15 minutes early is recommended. And, in some cases, we may ask you to map or even drive to the location to get a better idea of the route and time needed to get to your assignment. On the first day, contact your staffing coordinator to let them know when you have arrived. The staffing coordinator will contact you throughout the first week to ensure that your assignment is going as expected, answer any questions you may have, and to ensure you have submitted your time via the required process.
---
Calling off or Running Late
---
It is imperative that you contact your staffing coordinator by phone immediately if you are going to be late or calling of for your assignment. It is recommended that you do not call off during your first 30 days, if at all possible. We understand that things happen. however, if you have any issues - please call our office immediately - no matter what time. DPS has a representative available 24 hours a day, 7 days a week by calling our main line at 713-785-483 or 800-805-9318. DO NOT text or leave a voice mail. In some instanaces, you may be been instructed to call both DPS and your onsite manager. If this is the case, please nesure that DPS is notified.
---
Attendance Policy
---
Attendance is critical to a successful placement! Failure to contact DPS regarding time away from your scheduled assignment will result in disciplinary action up to and including termination.
No Call, No Show will result in an automatic termination
Tardy with notice = verbal warning
Tardy without notice = written warning
Unexcused absence with notice = written warning
3 tardies = 1 absence
3 unexcused absences = termination
---
Requesting Time Off
---
To request time off, you must submit a time off request form by clicking here. Time off request fors should be made 2 weeks in advance, if possible. If you cannot provide 2 weeks notice, contact your satffing coordinator immediately.
Please remember submitting a request does NOT gaurantee approval
The time off request fors are submitted to your onsite supervisor for approval and must be approved by both DPS and the client.
If you do not receive an answer within 72 hours of the submittal, contact your staffing coordinator.
---
Professionalism
---
Dress code and attendance expectations will be provided to you by your staffing coordinator through verbal and email assignment confirmation. In general, we require professional dress as your industry dictates. If your position requires specific dress or shoes for safety reasons, you must ensure that you abide by the requirements. Professionalism is much more that professional dress! Here are just a few key elements that add to your overall professionalism.
Attitude
Willingness to perform
Engagement
Involvement
---
Cell Phone Policy While On Assignment
---
The use of cell phones and mobile devices are prohibited while on the clock. Your phone should remain on silent and should not be visible while working. If you need to make or receive a call, do so on your scheduled break time.
---
Time Entry Policy
---
Your time is your money! It is your responsibility to ensure your timesheet is submitted and received by DPS every Saturday night by midnight. Your time entry process will be determined by the client and will be covered during your assignment confirmation. The standard DPS pay period is weekly, payday is Friday.
All time submitted after the deadline (Saturday at midnight) will be processed on the next payroll cycle.
Your paycheck can be received via direct deposit or ADP Paycard only. This is set up during your orientation process.
Please note, if you'd like to change this option, contact the payroll department for processing.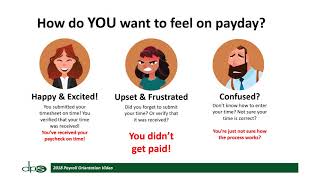 ---
Availability
---
You must notify DPS of your availability daily via the DPS WebCenter or the BUZZ app (recommended) or by phone. Failure to call in your availability for more than 1 week will result in deactivation from our system and will be considered a resignation from employment. DPS does not gaurantee minimum hours per shift or assignment. Temporary assignments can change based on the client's needs and opportunity. We will, however, communicate any changes as soon as we are made aware. DPS is a vehicle for employment opportunities, but we are not the only route. We encourage you to continue to look for employment using other means while we are presenting you to our clients. Cliick here to visit the DPS WebCenter and submit your availability. To download the buzz mobile app, click here (IOS) / click here (google play)
---
Paid Time Off Policy
---
One week of paid time off is offered after a DPS employee has completed 2,080 hours within the previous 14 months.
Employee must be actively employed and on a current assignment to receive paid time off.
Paid time off will not be paid out at time of termination or resignation.
Field Team Member Responsibility
Team Member must request Time Off via Time Off Request Form Request must be at least 2 weeks in advance for 8 hours or more Paid time off will not be available if team member is terminated or not on current assignment Paid time off is not to be used for Non-Scheduled Workdays To receive paid time off, employee must have no "DO NOT RETURNS" (DNR) on file.
---
---
¿ Tienes alguna inquietud o pedido especial ?